Apple Turnovers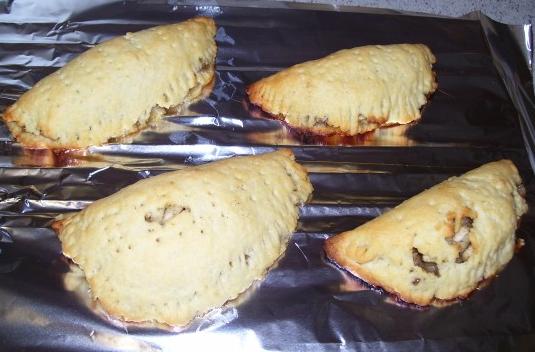 Ingredients:
Dough:
1 cup flour
1/2 teaspoon salt
1/3 cup butter or crisco
3 ounces of cream cheese
Filling:

1 1/2 cups chopped apples (finely chopped)
1/4 cup sugar
1/4 teaspoon cinnamon
dash of nutmeg
When finished:

Dusting of powdered sugar to taste
Instructions:
Combine the dough ingredients and pack into a ball. Chill while mixing the filling ingredients. Cut apples very finely and mix with other filling ingredients. Preheat the oven to 400ºF. Take the dough back out, divide into four balls, and roll each ball out on a floured surface. Put an even amount of filling in each one--it works best to put it all to one side, then fold the second side over in a taco shape. Press the edges of the pocket together and use a fork to crimp the edges down. Stick some fork holes in the top. Bake for 20 minutes. When finished, sprinkle with powdered sugar.
Yield: 4 turnovers
Source: Modified slightly and elaborated upon from a recipe at cooks.com
Recipes