Seitan "Meat & Potatoes" Stew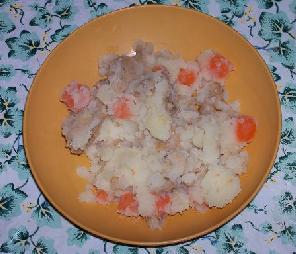 Ingredients:
2 tablespoons light olive oil
1 large onion, quartered and thin-sliced
2 minced garlic cloves
5 medium potatoes, firm, peeled and diced
4 medium carrots, peeled and sliced
1 vegetable bouillon cube
1 teaspoon seasoning
1 to 1 1/2 pounds seitan in bite-sized pieces
Salt and pepper
Minced fresh parsley for garnish
Instructions:
Heat 1 tablespoon of oil in a large soup pot. Add the onion and garlic. Sauté on medium until golden. Add 3 cups of water with the potatoes, carrots, bouillon and seasonings. Wait until the mix is simmering, then cover until the carrots are tender, about 25 to 30 minutes.

Heat 1 tablespoon of oil in a skillet. Sauté the seitan on medium high heat until brown and crisp. Mash some potatoes with a spoon to thicken the soup, then stir in the seitan. Add more water as per your desired consistency. Taste and season with salt and pepper and parsley.

Notes: When I made it I left out the onion and garlic because I wanted it to be simpler, and I didn't add any water because I wanted it to be chunky. You can also add cheese if you want!
Yield: Serves 6 to 8
Source: Nava Atlas, The Vegetarian Family Cookbook
Recipes