Red Velvet Cupcakes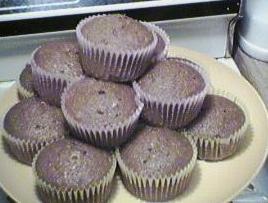 Ingredients:
2 1/2 cups all-purpose flour
1 teaspoon salt
1/2 cup butter, softened
1 1/2 cups sugar
2 eggs
2 tablespoons cocoa powder
2 ounces water
2 ounces red coloring (or, if using a more potent coloring, just use what seems needed to create a red hue)
1 cup buttermilk
1 teaspoon vanilla
1 teaspoon white vinegar
1 teaspoon baking soda
Instructions:
Heat the oven to 350º F. Mix together the flour and salt and set aside. Cream the butter and sugar. Add eggs. Make a paste of the cocoa, the water, and the food coloring, and add that to the butter mix. Mix the vanilla into the buttermilk and set that aside, then dissolve the baking soda in the vinegar in a small dish. Add the flour mix and the buttermilk mix to the main butter mix alternately; a scoop of flour mix, a splash of buttermilk, mixing thoroughly until all is used up. Finally mix in the dissolved soda/vinegar mix very thoroughly, pour into muffin tins and bake 15 to 20 minutes.
Yield: About 2 and a half dozen cupcakes
Source: Clare Crespo, Hey There, Cupcake!
Recipes