Good Gravy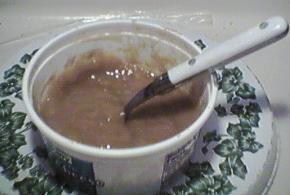 Ingredients:
2 cups vegetable stock (or water)
2 1/2 tablespoons tamari or other soy sauce
1 teaspoon minced fresh thyme leaves or 1/2 teaspoon dry
Salt and pepper (fresh-ground)
2 tablespoons of cornstarch dissolved in 3 tablespoons of water
1/4 cup regular or soy milk
Instructions:
Combine the stock, tamari/soy sauce, thyme, salt, and pepper in a saucepan and bring to a boil on high. Reduce to low. Dissolve your cornstarch in the water and then whisk it into the mix. Let come to a boil again while whisking and let boil for 1 minute. Whisk in the milk and do not let boil. Adjust seasonings to taste and serve hot.

Try it on vegetables, or in yummy Shepherd's Pie!

NOTE: I don't personally like thyme or pepper, and when I made this I left those out. It came out yummy anyway. Feel free to leave out what you don't like and provide it in a shaker to those you are serving if they want to add it to their portion!
Yield: About 2 1/2 cups of sauce
Source: Robin Robertson, The Vegetarian Meat and Potatoes Cookbook
Recipes