Poppy Seed and Sea Salt Crackers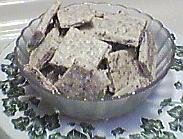 Ingredients:
1 cup all-purpose flour
1/4 teaspoon salt
1 teaspoon superfine sugar
1 tablespoon butter
1 tablespoon poppy seeds
6 tablespoons light cream
extra milk
sea salt flakes
Instructions:
Preheat the oven to 300º F. Mix together the salt, flour, and sugar in a bowl, and then cut in the butter and mix it up. Stir in the poppy seeds. Then add three tablespoons of cream, mix it up, and then add tablespoon by tablespoon the rest of the cream, mixing after each addition. You will probably need all six tablespoons of cream to make this a stiff dough, but if it has become too sticky before all the cream is added, stop. Roll the dough out on a floured board into an 8 x 10 inch rectangle. Cut into 20 squares.

Place the squares on an ungreased baking sheet and brush them with milk very lightly. Sprinkle sea salt flakes onto each cracker. (Note: Sea salt flakes can be hard to find. Using granular sea salt is fine too, but be sparing.) Bake for 30 minutes until crisp but not browned. Transfer to a wire rack for cooling.

Note: Originally a British recipe, the measurements have been converted to American measurements for my own use.

For a variation, you can use black or white poppy seeds, or sesame, caraway, or celery seeds instead.
Yield: 20 crackers
Source: Catherine Atkinson, The New Cookie Book
Recipes